In 2008,
Will It Blend?
was featured on a
Dreyer's
Dibs commercial. In the commercial, a girl holding a large
lollipop
tries some Dibs and wonders what will happen to lollipops when kids stop buying them in favor of the bite-sized ice cream treats. The next scene shows giant lollipops being used as an alternative to
waxing
a man's hairy back before Dickson blends them.
A second version of the commercial has Dickson himself being waxed and the hairy lollipop not bieng blended.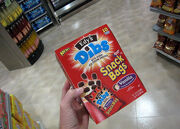 1st Version:
http://www.youtube.com/watch?v=vKAEEOFZMtM
2nd Version:
Ad blocker interference detected!
Wikia is a free-to-use site that makes money from advertising. We have a modified experience for viewers using ad blockers

Wikia is not accessible if you've made further modifications. Remove the custom ad blocker rule(s) and the page will load as expected.