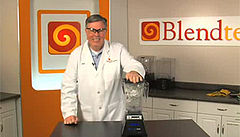 Tom Dickson is the founder, CEO, and boss of Blendtec. He is also the person who created Will It Blend?.
He has been on NBC's Today Show and starred on Jay Leno's show.
As the Will It Blend? episodes Show that he is a fan of the Beach Boys.
One time he blended a GPS named after him.
Ad blocker interference detected!
Wikia is a free-to-use site that makes money from advertising. We have a modified experience for viewers using ad blockers

Wikia is not accessible if you've made further modifications. Remove the custom ad blocker rule(s) and the page will load as expected.