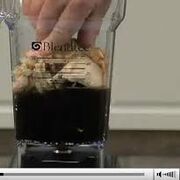 Diet Cochicken is a famous Will It Blend? recipe. It evolved from the famous Will It Blend? recipe Cochicken which is chicken and Coke blended together but instead with Coke it is with Diet Coke. It was referenced in the episode Will It Blend? Pens when Blendtec's marketing manager George Wright didnt think that the blender could blend pens. He betted that if it worked he would drink a Cochicken. Instead of drinking a Cochicken, he asked for a Diet Cochicken.
thumb|300px|right|The video in which Diet Cochicken was shown.
Ad blocker interference detected!
Wikia is a free-to-use site that makes money from advertising. We have a modified experience for viewers using ad blockers

Wikia is not accessible if you've made further modifications. Remove the custom ad blocker rule(s) and the page will load as expected.