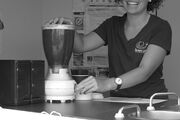 In February 2006, Blendtec sued Vitamix Corporation for infringing its patents on Blendtec's "Wild Side" jar design, which Vitamix had allegedly copied as its own MP and XP containers. The Court concluded Vitamix had infringed Blendtec's patents, and awarded Blendtec total damages of approximately $24 million.
Ad blocker interference detected!
Wikia is a free-to-use site that makes money from advertising. We have a modified experience for viewers using ad blockers

Wikia is not accessible if you've made further modifications. Remove the custom ad blocker rule(s) and the page will load as expected.